About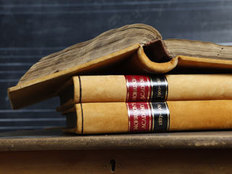 In the archive room, located in the East Wing of the Old School, the history of our School can be traced in photographs, school publications, old uniforms and artefacts, while heavy tomes of facts and figures lend a certain air of gravity to an atmosphere charged with memories.
Unfortunately, not every former pupil is able to visit the archive room so we have embarked on a project to digitise the entire collection and make it available to a wider audience.
The small group of volunteers involved in the project are confident that in time they can produce an on-line Morrisonian 'family album', a site primarily for former pupils and relatives but which might be of interest to educational researchers and genealogists. So this is a growing on-line collection, with currently around a thousand items. The oldest photograph in the collection dates from 1889 and the newest comes from well into the twenty-first century, so it covers much of the history of the school.
If you have in your possession an item which you think would enhance the on-line collection, please upload it using the link on this page. Thank you for your help in building this digital resource.
Familiar faces?
We can help you reconnect with former pupils through the school website
Search FPs